"A Lambie Like You" is a Doc McStuffins song from the Season 1 episode "The Rip Heard Round the World". It is sung by Doc to Lambie about how much she means to her. This song is on the CD Doc McStuffins: The Doc Is In.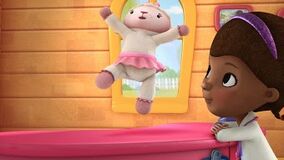 Doc:
You've been there all along
You know all my favorite songs.
When I'm scared, when I'm blue

Doc and Lambie:
You're at my side with a cuddle or two.

Doc:
I'm so lucky to have a Lambie like you.

Lambie:
(Giggles)

Doc:
You've got Sass

Lambie:
How 'bout that.

Doc:
You've got style

Lambie:
Oh, you're so nice

Doc (Lambie)"
And you fill my heart with a smile (And you fill mine)

Doc:
You're my funniest friend

Lambie:
Hey, that's so great.
Could you say that again?

Doc (Lambie):
I'm so lucky to have a Lambie like you (Doc, I Know that I'll always be here for you, too)




Ad blocker interference detected!
Wikia is a free-to-use site that makes money from advertising. We have a modified experience for viewers using ad blockers

Wikia is not accessible if you've made further modifications. Remove the custom ad blocker rule(s) and the page will load as expected.