"A Princess Can Too" is a Doc McStuffins song from the season 2 episode "Sir Kirby and the Plucky Princess". It is sung by Sir Kirby and Princess Persephone.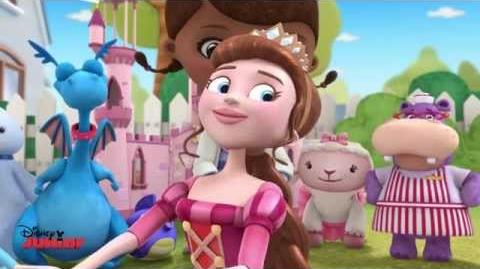 Sir Kirby:
Get my trusty squire, the rescuer you require
Is just a joust away.

Peri:
You must be mistaken; this hero chair is taken.
I'm saving the world today.

Sir Kirby:
I'm great at feats of bravery and charming is my middle name.

Peri:
If you can do it, I can do the same, but even better.

Sir Kirby:
My fragile little flower, get back in your tower.
I'll do what I do best, a brave quest.

Peri: This crown may be deceiving, but seeing is believing,
I'm a champion in this dress.
You might be a knight in shining armor, I know this is true.
Whatever a knight can do, a princess can too.






Ad blocker interference detected!
Wikia is a free-to-use site that makes money from advertising. We have a modified experience for viewers using ad blockers

Wikia is not accessible if you've made further modifications. Remove the custom ad blocker rule(s) and the page will load as expected.