"A Toy to Love" is a Doc McStuffins song from the Season 3 episode "A Dragon's Best Friend". It is sung by Doc and Lambie.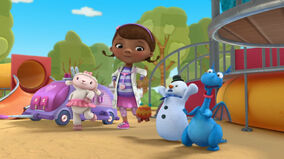 Doc:
Hey, stop running away so fast
Just wait, he's gonna make you laugh
So give the little guy a chance

Doc and Lambie:
Oh, oh, oh...
Yeah, he might follow you around
But he's cute and funny so
How boutcha' give the little guy a chance

Every toy deserves a home
A special kid to call their own
Every kid deserves to love
An awesome toy that they can take care of
We all need a toy to love





Ad blocker interference detected!
Wikia is a free-to-use site that makes money from advertising. We have a modified experience for viewers using ad blockers

Wikia is not accessible if you've made further modifications. Remove the custom ad blocker rule(s) and the page will load as expected.