"Bike Rules" is a Doc McStuffins song from the season 3 episode "Tour De McStuffins". It is sung by Doc, Stuffy, Lambie and Hallie.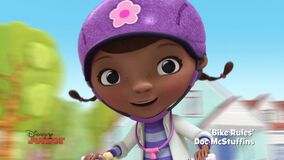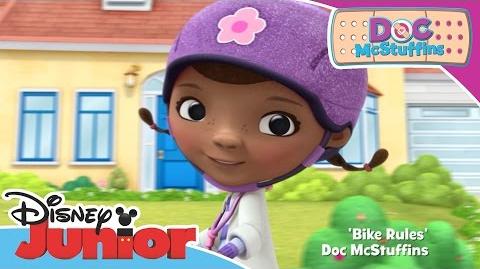 Doc:
You've got your bike, you wanna go fast

Lambie and Hallie:
We know you're stoked, so make the fun last

Stuffy:
Here are things you're gonna need
Helmet, knee pads, watch your speed

All:
Whoa-whoa, the bike rules
Whoa-whoa

Stuffy:
'Cause bikes rule!

All:
Stay in your lane, no wheelies or jumps
Be careful of cars and people and stunts
Whoa-whoa
The bike rules
Whoa-whoa
'Cause bikes rule!







Ad blocker interference detected!
Wikia is a free-to-use site that makes money from advertising. We have a modified experience for viewers using ad blockers

Wikia is not accessible if you've made further modifications. Remove the custom ad blocker rule(s) and the page will load as expected.