"Brave Queen Bessie" is a Doc McStuffins song from the Season 3 episode "Itty Bitty Bess Takes Flight". It is sung by Itty Bitty Bess. In this song, Bessie sings a song about the history of Bessie Coleman the first African-American woman to fly a plane.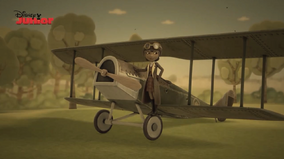 When she was a little girl
In a great big world
Nothing could stand in her way
She conquered the sky
With a fearless eye
And that's why they called her so brave

Brave Bessie
That's who I wanna be
Brave Queen Bessie and me

She took a big chance
When she moved to France
To follow her American dream
Flying upside down
Became the toast of the town
And that's why they called her the queen

Queen Bessie
That's who I wanna be
Queen Bessie

She could do the loop the loop
With the greatest of ease
Flying through the sky
As if defying gravity

Brave Queen Bessie
And me








Ad blocker interference detected!
Wikia is a free-to-use site that makes money from advertising. We have a modified experience for viewers using ad blockers

Wikia is not accessible if you've made further modifications. Remove the custom ad blocker rule(s) and the page will load as expected.