"Breathe Easy" is a Doc McStuffins song from the Season 3 episode "Winded Winnie". It is sung by Doc, Stuffy, Lambie and Hallie. In this song, Doc, Stuffy, Lambie and Hallie sing to Winnie the Tiger about calming down and not to breathe badly.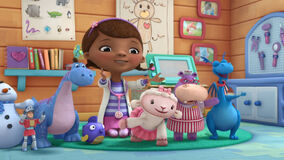 Doc:
Take three breaths
Deep and slow
Tell a grownup who knows
How to keep you calm

All:
If you're sneezy and you're wheezy
Your breathing won't come easy

Doc:
Stay calm and cool
If you feel panicky

All:
If your breath has trouble moving
Slowing down can be so soothing
Breath long and deep on one, two, three
Until it's easier to breath!







Ad blocker interference detected!
Wikia is a free-to-use site that makes money from advertising. We have a modified experience for viewers using ad blockers

Wikia is not accessible if you've made further modifications. Remove the custom ad blocker rule(s) and the page will load as expected.