"Hallie Hippo Happy Hour" is a Doc McStuffins song from the season 2 episode "Big Head Hallie" and this song is the theme song for a show on TV staring Hallie. In this song you can see Hallie in various costumes such as Astronaut Hallie, Agent Hallie, Detective Hallie, Skateboard Girl Hallie, Chef Hallie, Football Girl Hallie, Ballerina Hallie and many more.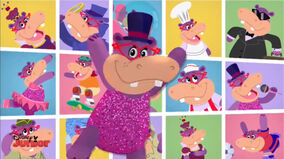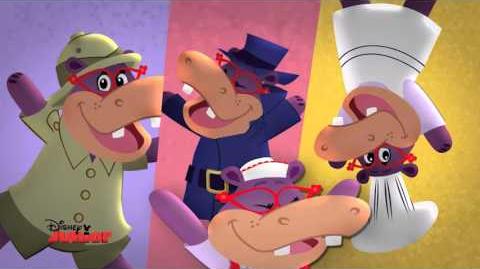 If thrilling adventure if what you're after
Excitement, fun and a whole lot of laughter.
Here's Hallie! (Here's Hallie!)
I wonder who she's gonna be.

Hallie on TV:
No you can't stop me!

Soccer player, figure skater, chef or spy.
A first great nurse or a private eye.
Geologist, gymnast, astronaut orbiting space.
She's always gonna save the day. (Save the day!)

Jump right in and take a seat
You can come along and ready to meet you.
Here's Hallie! (That's me!)
The party starts now. (Right now!)
The Hallie hippo happy hour.


Ad blocker interference detected!
Wikia is a free-to-use site that makes money from advertising. We have a modified experience for viewers using ad blockers

Wikia is not accessible if you've made further modifications. Remove the custom ad blocker rule(s) and the page will load as expected.