"Look What I Can Do!" is a Doc McStuffins song from the Season 2 episode "Oooey Gablooey Springs a Leak". It is sung by Oooey Gablooey, with Stuffy and Chilly in the background.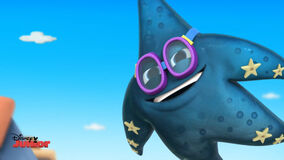 Oooey Gablooey:
Ladies and gents!
Hello girls and boys!
I'll demonstrate the greatest trick ever pulled off by a toy.
I'm up for the challenge.
No need to ask twice.
With dizzying speed and the greatest of ease
I will stretch and fly.

Prepare yourselves for a thrill
Your eyes won't believe that it's true.
Everyone, everyone, look what I can do.
Everyone (Stuffy and Chilly: Everyone)
Everyone (Stuffy and Chilly: Everyone)
Look what I can do.

Hahahaha!


Ad blocker interference detected!
Wikia is a free-to-use site that makes money from advertising. We have a modified experience for viewers using ad blockers

Wikia is not accessible if you've made further modifications. Remove the custom ad blocker rule(s) and the page will load as expected.