"Pick Me" is a Doc McStuffins song from the Season 3 episode "Master and Commander". It is sung by Commander Crush and Star Blazer Zero.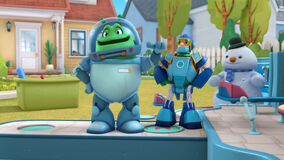 Commander Crush:
Pick me. I'm the best one that you've got
The leader for the job, that guy is clearly nuts

Star Blazer Zero:
Pick me. I'm the perfect candidate
The president of space, that guy is always late
I have battled aliens

Commander Crush:
Hah! I'm the coolest to your friends
My spaceship is attached to me

Star Blazer Zero:
My heart beat's in my feet

Both:
Pick me. I'm highly qualified
Master of the skies, clearly

Star Blazer Zero:
You should pick me

Commander Crush:
No, pick me

Star Blazer Zero:
Just pick

Both:
Me…





Ad blocker interference detected!
Wikia is a free-to-use site that makes money from advertising. We have a modified experience for viewers using ad blockers

Wikia is not accessible if you've made further modifications. Remove the custom ad blocker rule(s) and the page will load as expected.