"Pop Up" is a Doc McStuffins song from the Season 1 episode "Out of the Box". It is sung by Doc, Stuffy and Lambie to teach Little Jack that there is nothing to fear when going to a doctor and that he will soon get better.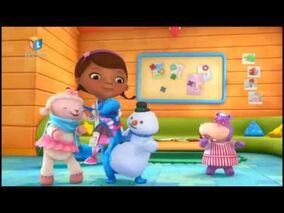 Doc:
Hey little Jack
I'll get you on track
There's nothing to fear
Your Dad is right here [Hi son]
Get ready to wind up and spring
I can fix anything

Pop-up, Pop-high
I know you feel a little shy

Stuffy and Lambie:
Let her take a look and see
Why your spring is stuck-adee

Doc:
I'll check this, check that
Let's get your 'pop' back

Stuffy and Lambie:
No need to be afraid
Doc does this every day

Doc:
Take it from me
You're gonna see

All:
How much higher your pop can be
So pop-up, pop-out
Doc will make it better right now





Ad blocker interference detected!
Wikia is a free-to-use site that makes money from advertising. We have a modified experience for viewers using ad blockers

Wikia is not accessible if you've made further modifications. Remove the custom ad blocker rule(s) and the page will load as expected.