"Queen of Ballet" is a Doc McStuffins song from the Season 3 episode "Moo-Moo's Tutu Boo Boo". It is sung by Moo Moo. In this song, Moo-Moo sings as she pretends to be in a real ballet show.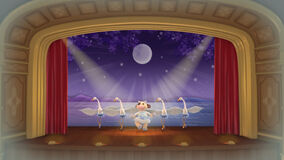 I dream of satin toe shoes
Always pink and white
I dream I'm starring in Swan Lake
On opening night
I dream it's me so gracefully
Commanding the spotlight

I jeté and plié and pirouette every day
I'm a prima ballerina
Queen of ballet

I do my best arabesque
Perfect and effortless
I'm a prima ballerina
Queen of ballet



Ad blocker interference detected!
Wikia is a free-to-use site that makes money from advertising. We have a modified experience for viewers using ad blockers

Wikia is not accessible if you've made further modifications. Remove the custom ad blocker rule(s) and the page will load as expected.