"Room To Zoom" is a Doc McStuffins song from the Season 2 episode "The Glider Brothers" This song is sung by Wilbur and Orville.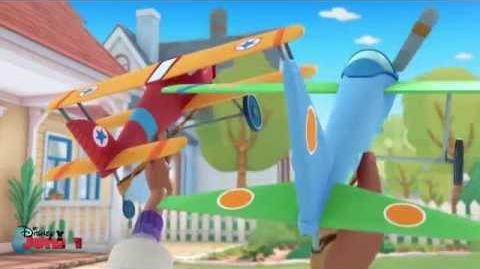 Wilbur and Orville:
We're outdoor toys, we wanna play outside.
Higher and higher into the sky we climb.
Rev those engines, aim for the blue.
Stunts and tricks and turns
And an awesome loop-de-loop.

So much that we can do.
With room to zoom and an open sky to fly.
Fast and free, with all the space we need.
Give me room to zoom
If you're ready so am I.
We were meant to be flying fast and free.
We were meant to be outside!





Ad blocker interference detected!
Wikia is a free-to-use site that makes money from advertising. We have a modified experience for viewers using ad blockers

Wikia is not accessible if you've made further modifications. Remove the custom ad blocker rule(s) and the page will load as expected.