"Safe 'N Spooky Time" is a Doc McStuffins song from the season 3 episode "Hallie Halloween". It is sung by Doc, Stuffy, Lambie and Hallie. In this song, Doc and the gang sing a rock song about being safe on Halloween night.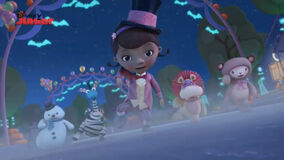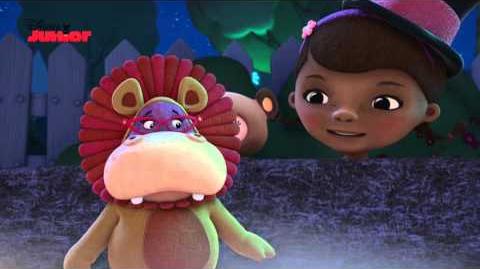 Doc:
Checking out the scene on Halloween
It's a dark and scary night

Lambie:
Got your costume on, don't wander off

Stuffy:
Keep your friends and your parents by your side

Doc and Lambie:
When you're collecting candy, keep a flashlight handy

All:
Hippos, ghouls, and ghosts stay close tonight
We'll stay safe and spooky
Stick together, never out of sight
Have a safe 'n' spooky
Crazy, kooky
Safe and spooky time!








Ad blocker interference detected!
Wikia is a free-to-use site that makes money from advertising. We have a modified experience for viewers using ad blockers

Wikia is not accessible if you've made further modifications. Remove the custom ad blocker rule(s) and the page will load as expected.