"Stop!" is a Doc McStuffins song from the season 2 episode "Commander No". It is sung by Doc, Stuffy, Lambie and Gloria Gorilla.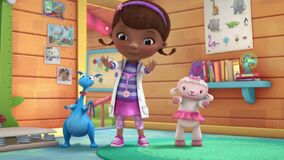 Gloria:
I had no idea, I tickled too much
My apologies to Commander Crush

Doc, Stuffy and Lambie:
When someone says "no", when someone says "stop"
Let that be your cue that enough is enough

Doc:
'Cause tickling and chasing can be fun games

Lambie:
Not everybody always feels the same

Doc:
It might seem like everyone is having fun

Doc, Stuffy and Lambie:
But when your friend says "stop"
Let the games be done
Stop. No. That's enough
These are the words to listen too
Stop. No. Knock it off

Doc, Stuffy, Lambie and Gloria:
When you hear those words
Well that's your cue


Ad blocker interference detected!
Wikia is a free-to-use site that makes money from advertising. We have a modified experience for viewers using ad blockers

Wikia is not accessible if you've made further modifications. Remove the custom ad blocker rule(s) and the page will load as expected.