Stuntman Steve



Name

Steve

Gender

Male

Type of Toy

Electronic

What Kind

Stuntman

Owner

Debut

Voice

Mike Vaughn
Stuntman Steve is a stuntman that loves riding his motorcycle and doing tricks until he lost his helmet, causing his computer chip inside his head to come loose. Doc fixed him as Stuffy found his missing helmet.
"I'm the raddest stuntman you ever seen!"
He is based on the Evel Knievel action stunt toys.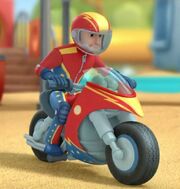 Ad blocker interference detected!
Wikia is a free-to-use site that makes money from advertising. We have a modified experience for viewers using ad blockers

Wikia is not accessible if you've made further modifications. Remove the custom ad blocker rule(s) and the page will load as expected.