"Tell The Doc" is a Doc McStuffins song from the Season 1 episode "Righty-on-Lefty". It is sung by Doc, Stuffy and Lambie to Awesome Guy about telling Doc what's wrong so she can help him.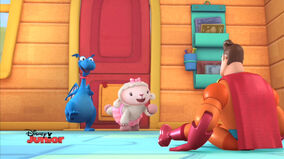 Stuffy and Lambie:
If you don't tell the doc what's going on
How's she supposed to know if anything's wrong.

Lambie:
Tell the doctor everything

Stuffy:
Every ache and pain

Stuffy and Lambie:
What she has to guess depends on how much you explain.
So, please tell the doc if anything's wrong.

Doc:
I really want to know what's going on.

All:
A hero can't be super if he can't get off the ground,
Make a list of sprains and twists and let her check you out.

Doc:
I'll do it now!






Ad blocker interference detected!
Wikia is a free-to-use site that makes money from advertising. We have a modified experience for viewers using ad blockers

Wikia is not accessible if you've made further modifications. Remove the custom ad blocker rule(s) and the page will load as expected.