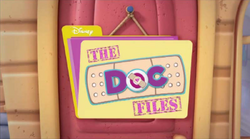 The Doc Files is an spin-off series to Doc McStuffins. The series feature takes a look into Doc's keen deductive skills as she shares an in-depth look at specific cases and diagnoses after the clinic doors close for the day. The series debuted in the US on Disney Junior and Disney Channel on July 22, 2013.
Each episode opens with Doc dictating a toy patient's chart and recalling how she solved the case from allergies to splinters to the importance of healthy eating and exercise. The flashback sequences are done in 2D animation, while the beginning and end are done in CGI.
Ad blocker interference detected!
Wikia is a free-to-use site that makes money from advertising. We have a modified experience for viewers using ad blockers

Wikia is not accessible if you've made further modifications. Remove the custom ad blocker rule(s) and the page will load as expected.