"The Spaces In-between" is a song from the season 2 episode "Rockstar Ruby and the Toys". It is sung by Doc, Stuffy, Lambie and Hallie.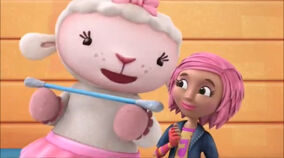 Doc:
It seems sometimes like dirt and grim
Can find the smallest places to hide

All:
Sticky stuff in places hard to see, oh-eee
So scrub along with me
It's the nooks and crannies that's all your needs

Stuffy:
The ticklish bits like your feet and armpits

Hallie:
They might seem impossible to clean

All:
Get the spaces in-between
Your toes wherever dirt goes

Lambie:
Your belly button

Stuffy:
The tip of your nose

All:
A little soap and water is all you need
Get the spaces in-between







Ad blocker interference detected!
Wikia is a free-to-use site that makes money from advertising. We have a modified experience for viewers using ad blockers

Wikia is not accessible if you've made further modifications. Remove the custom ad blocker rule(s) and the page will load as expected.