"Twisted Tail Blues" is a Doc McStuffins song from the Season 2 episode "Bronty's Twisted Tail". It is sung by Stuffy and Bronty.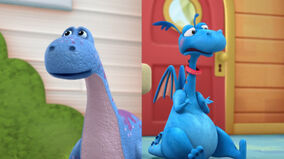 Bronty:
I was born for the stage, ready to play
Now I'm a one-hit wonder.

Stuffy:
I'm a rock solid friend, but I fear it's the end
Because of a drum set blunder.

Bronty:
My drumbeat heart, has a

Stuffy and Bronty:
Broken heart

Bronty:
My tail is twisted!
How do I straighten this out?

Stuffy:
I want to fix it!
Oh, but I just don't know how.

Bronty:
What am I

Stuffy:
What am I

Bronty:
What am I

Stuffy and Bronty:
Gonna do now?






Ad blocker interference detected!
Wikia is a free-to-use site that makes money from advertising. We have a modified experience for viewers using ad blockers

Wikia is not accessible if you've made further modifications. Remove the custom ad blocker rule(s) and the page will load as expected.