"Use Your Imagination" is a Doc McStuffins song from the Season 3 episode "Mind Over Matter". It is sung by Doc, Commander Crush, Saltwater Serge and Luna. In this song, they sing about having an adventure with the power of imagination.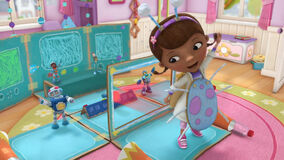 Doc and Luna:
What's that big rock over there?

Saltwater Serge:
We've discovered Planet Z

Commander Crush:
What's that creature up ahead?

Saltwater Serge:
Use your flashlight laser beams
And the imagination

Doc, Commander Crush, Luna and Saltwater Serge:
Explore your mind, you might be surprised
Use your imagination
The fun and games, the beeps and lights
It's your own creation
Cardboard robots, tin foil rockets
Let's go, use your imagination







Ad blocker interference detected!
Wikia is a free-to-use site that makes money from advertising. We have a modified experience for viewers using ad blockers

Wikia is not accessible if you've made further modifications. Remove the custom ad blocker rule(s) and the page will load as expected.