"What's Better Than Toys?" is a Doc McStuffins song from the Season 2 episode "A Very McStuffins Christmas". It is sung by Doc and Tobias.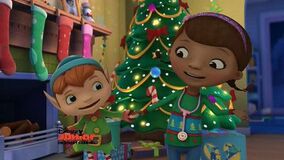 Tobias:
Nothing is better than giving a toy
Filling kids' stockings with holiday joy.
I love to see a face light up, when a dream comes true.

Doc:
Nothing is better than fixing toys up
Working together and healing with love.
It's nice to see a smile come back
When a toys like new.

Both:
Hearing them laugh, fixing their toys.
Helping a kid feel better
Nothing's more thrilling then giving and filling
The whole world up with love.


Ad blocker interference detected!
Wikia is a free-to-use site that makes money from advertising. We have a modified experience for viewers using ad blockers

Wikia is not accessible if you've made further modifications. Remove the custom ad blocker rule(s) and the page will load as expected.