Whispers the Stuffed Kitten



Name

Whispers

Gender

Female

Type of Toy

Plush

What Kind

kitten

Owner

Debut

Voice

???
Whispers is a toy kitten that Doc got from her school sale that no one bought as Doc keeps the kitten as the toys noticed that the kitten is too shy to be near anyone as Lambie tries to show her love to her.
Whispers is a magenta-colored kitten with big, olive-colored eyes and a pink nose.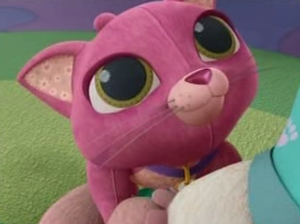 Ad blocker interference detected!
Wikia is a free-to-use site that makes money from advertising. We have a modified experience for viewers using ad blockers

Wikia is not accessible if you've made further modifications. Remove the custom ad blocker rule(s) and the page will load as expected.